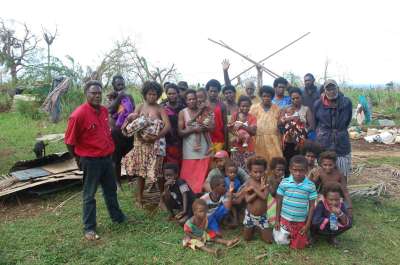 Food & Family Welfare Supplies

Building & Material Supplies

Health & Medical Supplies
Click here for more images
Message from Tahnia Cook...
Tuesday March 30, 2015
I found Paul and his family all ok but in need of assistance due to their location to rebuild their home living area. Also in need of medical supplies...
Paul's home is standing just lost his kitchen but all the other houses around are gone including his son Mark's house.
Everyone is currently sleeping in Paul's house. 5 babies and mothers in one room, 15 in another room and another 20 - 30+ sleeping with legs over each other in the 'living room'.
I spoke with Nellie (Paul's wife), she was lovely and SO happy to hear you had sent me and were trying to help them. Can't wait to see you all again.
Funds and supplies have been delivered to them so the re-building can start.
Message from Paul Simbolo... Epule Tops Village, North Efate
Monday June 1, 2015
Thank you for all your help and assistance.
We will still need help for some time as there is a lot of work to be done repairing the homes and gardens. Looking forward to seeing you again.
A list of needs for Paul's Village...
Household Items
Arm chair set
Double mattress (X10)
Single mattress (X10)
Bed sheets/bed covers for single + double bed
Blankets for Single + double bed
Window curtains (X6 windows)
Second hand clothes for six months old infant to 60 years old adult
A dozen of Overalls/coveralls
A set of dining table with chairs
A set of table spoons
A set of drinking glasses
2 set of coffee mugs
2 sets of dining plates
Sets of forks
1 Chain Saw

Garden Tools
Fork
Spade
Rake
Bush knife
Shovel
Hoe
Wheelbarrow
Safety boots

Carpentry Tools
Hammer
Tape measure
Ripping bar
Philips and straight screw drivers
Handsaw
Level
Try square