How far will we have to travel NOW
and how long will we have to WAIT to
get to our long overdue sports fields ?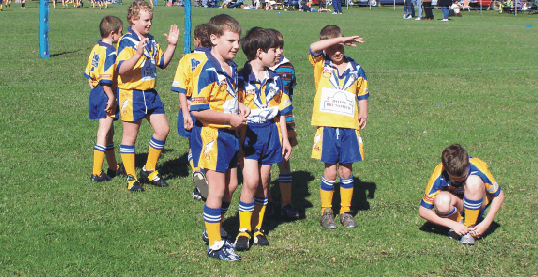 Click here for Petition Form 2006

The Project Overview:
The township of Ocean Shores has the second largest population in Byron Shire and is still continuing to grow.
Yet after 35 years of development it still has not received its own sports fields.
(Long Overdue)
Lot 107 has already been purchased by Council for sports fields and is ready to be developed.
(Already Approved)
Lot 107 is situated just 1100 metres from the Ocean Shores Public School. The school has expressed support for the development of Lot 107 for sports facilities and regular inter-school events.
(Close to School Community)
Lot 107 is not only between the two Ocean Shores communities, it is also easily accessible by foot or bicycle for the residents of two other adjoining communities of South Golden Beach and New Brighton.
(Linked by informal Bike and Walkways)
Lot 107 is the ONLY parcel of land suitable for the affected community that can safely be accessed by the children of the area.
(Already cleared and ready for development)
Lot 107 due to its proximity to local communities, will reduce the number of cars and duration of travel time on local roads as children are transported to training sessions and sporting fixtures.
(Environmentally Sound)
Concern 1.
NOW the latest news is...
Byron Shire Council is negotiating with the RTA to purchase the sports fields Lot 107 as part of their "compensation package" for the NPWS to be included in their land portfolio.
Why does Council not want to develop Lot 107 ?
Concern 2.
The outrageous battle for our children's sports fields...
" The sale of Lot 107 at Ocean Shores is under a cloud after Byron Shire Council received a valuation rumoured to be double a Roads and Traffic Authority offer of $225,000." Full story click here
Why sell Lot 107 for $225,000 and buy another location at Yelgun
for 1.3million ? It does not make sense.

Interesting Point 3.
What does our NEW Premier have to say about LOT 107 ?
He states in a letter to Don Page Member for Ballina dated October 12, 2000 ...
" Lot 107 was mostly cleared and therefore has no potential as an environmental facility."
Why does Council want to protect a parcel of land with no environmental significance ?
click here for the background information and the paper trail

LEGAL ACTION TAKEN by The Brunswick Valley Sports Association.
The BVSA on October 6, 2005 lodged a Class 4 Action with the Land and Environment Court against Byron Shire Council to sell Lot 107 Shara Boulevarde, North Ocean Shores.
Issued by
Les Ogston President
Brunswick Valley Sports Association
Ph (02) 6680 4411
Mob 0417 370701

RESPONSE BY BYRON SHIRE COUNCIL.
1. The General Manager on behalf of Council gave an undertaking not to enter into any Contract for Sale of Land in relation to Lot 107 within the next two weeks.
2. Use of Mayoral delegation to make confidential resolution #05-696 made on September 27, 2005 non-confidential except in relation to the monetary amounts.
(Contact General Manager or Mayor for further clarrification)

TIMELINE of Events
1993
Council begins search for
Sports Field
1995
IPO 12 month
Investigation found no environment significance with Lot 107
1996
Council purchased
Lot 107 for
Sports Fields
1997
Secret meetings between RTA, BEACON & Greens Caldera Env. Centre
1999
RTA special meeting with
environmentalists, ecologists and other unnamed, unidentified persons
at Byron Bay
2004
Resolution
04-880
2005
Confidential Meetings BVSA, OSCA and Council
2005
OSCA inc. Resolved
Report No 13.13 05-596
Where to NOW !
Lot 102 Yelgun
Conditions of Purchase
Follow up from
Meeting at Council
7/9/05 at 5.30pm
Yelgun Lot 102
Location Photo
OSCA & BVSA at
Billinudgel Hotel
18/9/05
BVSA Presidents
Meeting
13/10/05
PRESS RELEASE
Click here for Petition Form 2006